New York has to be one of the most famous cities in the world. Often referred to as the 'Big Apple', this vibrant city is known for its exclusive shops, flashy Broadway performances, and high-flying business tycoons, and it's a city that has long captivated people from all over the world. But, aside from the flashing lights, it's also home to the beloved Statue of Liberty, a symbol of freedom and hope, and Central Park, one of the tidiest and best-kept parks in the world. So, clearly, New York is more than just a place for the big shots. So, let's take a closer look at what has made New York one of the most famous cities in the world.
It's hard to conjure up an image of New York City and not picture the iconic turquoise monument known around the globe as the Statue of Liberty. Constructed in 1886, the statue was a gift to America from the people of France as a symbol of friendship between the two countries. The monument represents freedom above all else, and a broken chain lies at the feet of the muse in recognition of the abolition of slavery in the United States, and the date of the United States Declaration of Independence is engraved in the tablet held in the female's left hand. Her right hand is held high above her head and carries a torch, which many attribute to America having 'found the light' and leaving the dark days of slavery behind. Strategically positioned to welcome immigrants as they approached the shores of America, this is probably one of the world's most famous statues.
If you want to see the statue in all of its glory, but don't want to shell out a fortune, then we recommend catching the Staten Island Ferry, which passes the statue en route to Staten Island. Some boat tours simply let you ogle at the statue from the water, and these trips are the next cheapest option, but most trips let you wander around Liberty Island itself, which means that you can get up close and personal with the monument. Finally, there are more luxurious options if you don't mind splashing the cash a little. These plush options range from luxury yacht tours, to romantic dinner cruises, to helicopter tours. No matter which option you go for, this really ought to be a must-see on anyone's New York checklist.
Rockefeller Center and Top of the Rock Observation Deck
No trip to New York is complete without a visit to the Rockefeller Center, one of the city's best-known landmarks. This impressive Art Deco complex is home to various buildings, including high-end shops, fancy restaurants, and suave cocktail bars. On top of that, 'The Rink' offers a truly memorable ice skating experience right at the foot of the building – admire the unique architecture of the Rockefeller Center as you twirl around a rink illuminated by fairy lights (during the winter months only).
You can even hire spaces within the center for very special occasions – locations include the Rainbow Room (which even Presidents have visited), The Gallery, and a Private Dining Room.
Plus, if you're really taken with the center, you can even hire it for a wedding that you'll never forget. Our favorite spot, however, has to the Top of the Rock Observation Deck, which is spread out over the 67th, 69th, and 70th floors. The 360-degree views really are incredible, and there are various tours and tickets available (some even include a cheeky queue jump).
Wall Street
Admired by some, despised by others, Wall Street certainly invokes strong emotions in people from all walks of life. This 8-block long street situated in Manhattan's Financial District is where some of the world's most important stock exchanges occur. During America's 'roaring twenties', Wall Street made many people millionaires overnight, yet it all came tumbling down when the US stock market crashed hard in 1929, leading to the infamous Great Depression.
Much of this is depicted in the fairly recent Wolf of Wallstreet film, as well as various other films, that have contributed to the fame of the area over the years. Although there's not much going on for tourists on the street itself, you can't help but think of all the highs and lows that have occurred in the area as you pass through it.
Central Park
Central Park really is an oasis of natural beauty within the concrete jungle formally known as Manhatten. It is probably the most famous park in the entire world, most likely because it's the most filmed location in the world. Trust us, if you get the chance to visit this spectacular park in person, rather than on a screen, you should definitely take it.
Whether you're a nature-lover, exercise enthusiast, or just into picnics, there's something for everyone in this green haven. In fact, the park has been so successful that it was designated a National Historic Landmark in 1963 and a New York City scenic landmark in 1974 – it's no wonder that it receives almost 40 million visitors a year.
Empire State Building
The Empire State Building opened in 1931 and has since become symbolic of New York's skyline. At the time of its opening, it was the largest building in the world, and from below you can't help but feel humbled by this imposing structure – in fact, it's so large it even has its own zip code.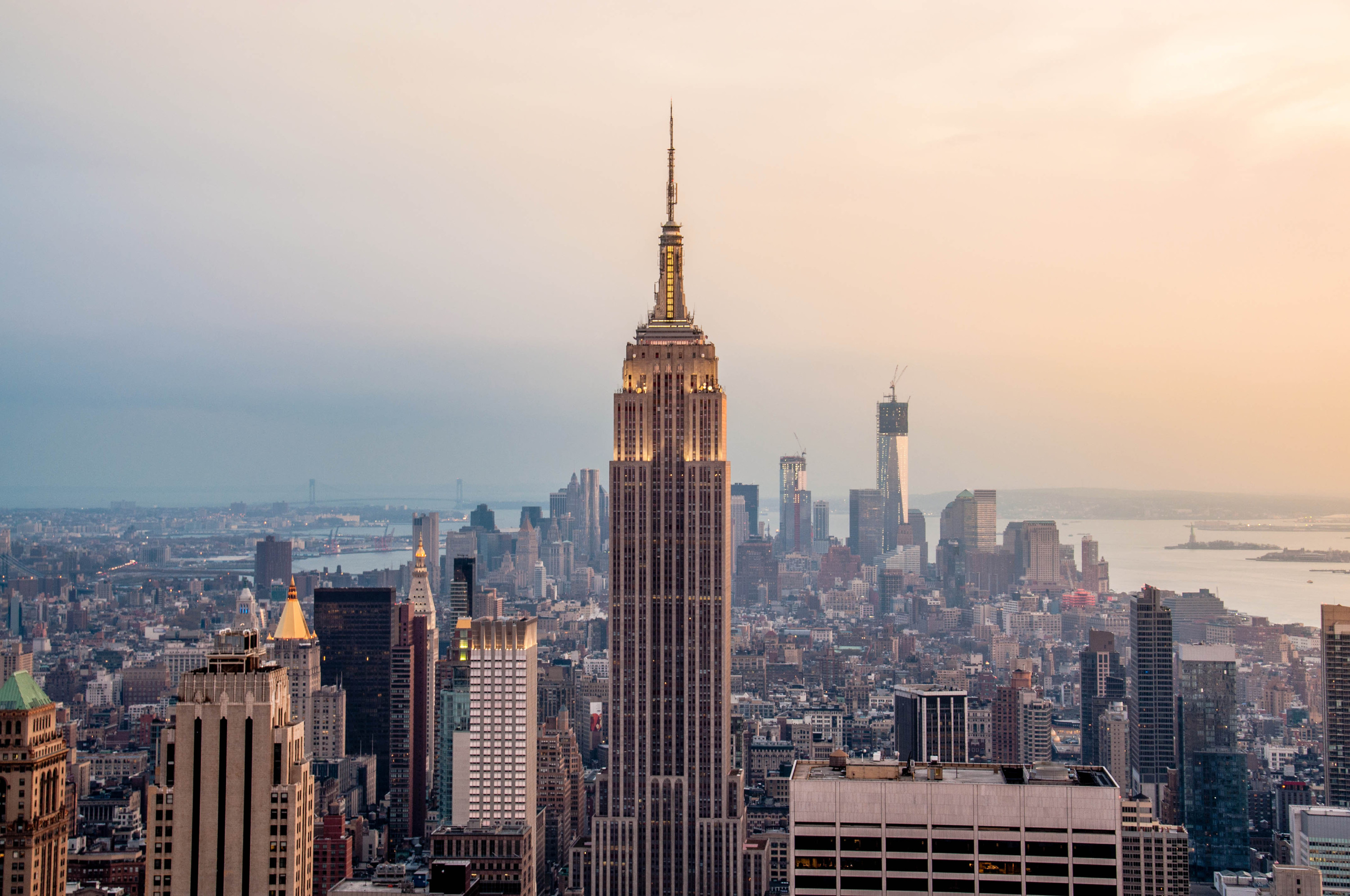 If that's not enough for you, you can take a trip up the building itself and visit one of its two observation platforms. One, located on the 86th floor, is open-aired, while the top deck, located on the 102nd floor, is sealed – we aren't sure which is the more daring choice. The lines can get pretty long, although there are some queue-jump tickets available, but it's totally worth the wait for the views from the top – you can see all the way to New Jersey, Pennsylvania, Connecticut, and Massachusetts when the conditions are kind to you.
Times Square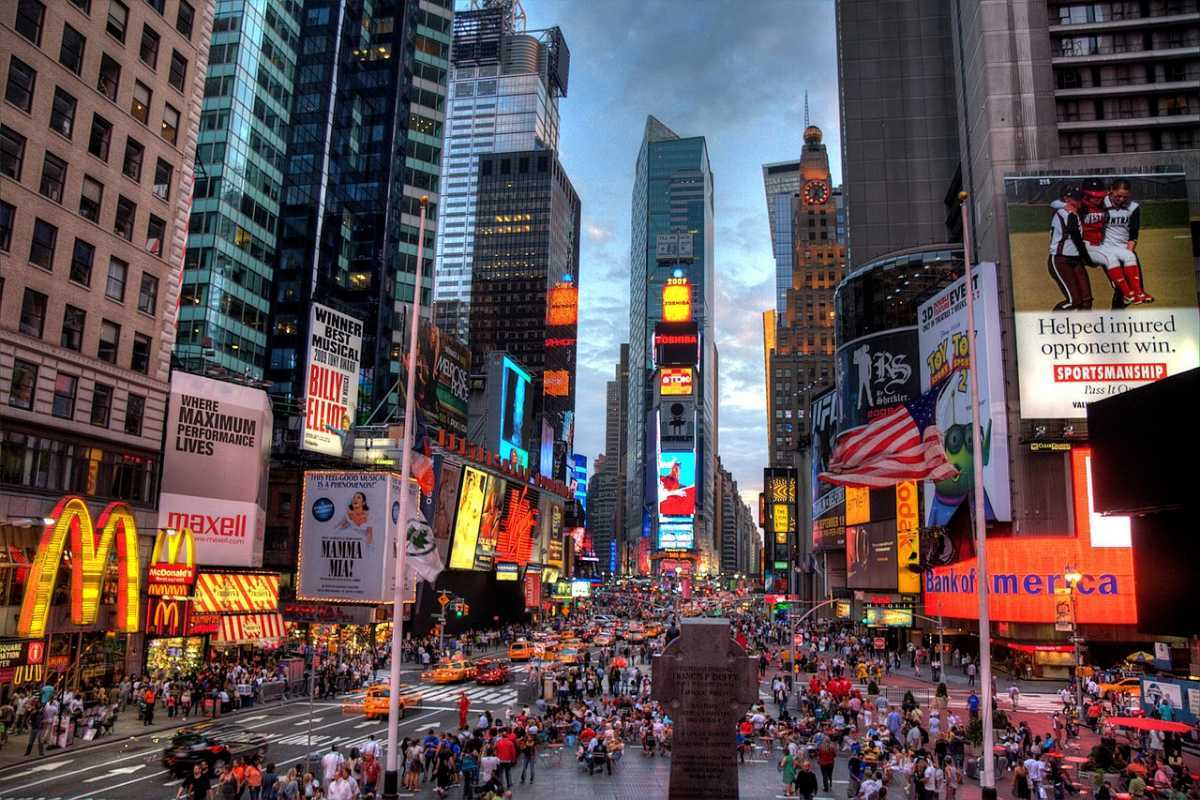 When the headquarters of the New York Times moved to a new area in 1904, the area took on a new, now famous, name – Times Square. This flashy area is packed with voracious billboards and pedestrians – in fact, it receives up to 460,000 pedestrians a day. Located close to Broadway, this busy junction has been termed the 'Center of the Universe'. If you happen to be in New York on New Year's Eve, head here for the ball drop – a literal ball descends down the top of One Times Square to mark the new year. The streets will be even busier than usual and, combined with a backdrop of fireworks, it makes for a thriving atmosphere.
Bagels
Bagels are a staple part of New Yorker's diets. These delicious doughy creations are thought to have made it to America through Jewish immigrants in the 19th century. Since then, tonnes of bakeries have sprouted up as the snacks have grown exponentially in popularity – there's even a National Bagel Day in the US on the 9th of February! Competition between bagel stores is fierce, and everyone has their own personal favorite, but this list is a good place to start if you're wondering where to go to pick up a classic New York bagel.
Brooklyn Bridge
Brooklyn Bridge is an impressive feat of engineering and forms a link between Brooklyn and Manhattan in New York. At the time of its construction (which was completed in 1883), this suspension bridge was the first to use steel for cable wire, making it a real groundbreaker, and it has since been designated as a National Historic Landmark.
This iconic bridge can be viewed from the river, with many of the ferries passing close by. Or, alternatively, you can find some land-based spots with great views, such as Pebble Beach in Brooklyn. But if you really want to admire this bridge in its full glory, you should take a trip down the Brooklyn Bridge Pedestrian Walkway (and Bicycle Lane). As you stroll along the wooden planks, you can appreciate how hard this bridge must have been to build back in the day, and you'll get great views of the river, Manhattan, and even the Statue of Liberty. If you're a selfie lover, take care when taking photos on the bridge, as there's heavy traffic and cyclists and pedestrians have been known to collide from time to time!
Summing Up
There you have it – New York's most famous features. With its bright lights, impressive buildings, and popular public spaces, it's easy to why this city is one of the best known in the world. It offers fantastic shopping, restaurants halfway up some of the tallest restaurants in the world, and sunset cruises that let you soak up the sun and some of the world's most iconic landmarks at the same time. Although these activities might set you back a bit, there are tonnes of things you can do in New York without breaking the bank – stroll along Brooklyn Bride and taken in the scenery, take a picnic to Central Park and while away an afternoon, and pick yourself up one of the tastiest bagels you'll ever experience for less than five bucks. Plus, if you're interested in lots of the big attractions, but are worried about the costs, make sure you check out some of the ticket combos – for instance, the CityPass includes 6 key attractions and is way cheaper than purchasing individual tickets. No matter what kind of trip you're planning, a visit to New York City will without a doubt be one that you'll never forget.
Broadway
For anyone into theatre, there's no better place to experience the thrill of a broadway performance than in New York's Theater District. All the best shows can be viewed here, and it's regarded as the center of US theater. Be warned that tickets can cost a bomb, depending on which of the 40 theaters you visit, and most need to be purchased way in advance. Check out the website to see what's on while you're there.
Fifth Avenue
Fifth Avenue, with its swathes of designer stores, is New York's most famous shopping street and is often referred to as Millionaire's Row. While you don't exactly have to be a millionaire to shop there, it certainly helps, especially if you want to go on any kind of spree. Big names you'll see include Versace, D&G, Armani, Prada, and so many more. If you're strapped for cash, don't despair though, there are some standard high-street stores around too, such as H&M, Zara, and Apple.
A certain magic fills the air of Fifth Avenue around Christmas time when all the stores whip out their festive displays. If you can, we definitely recommend visiting during this season. Shop til' you drop then hit up one of the nearby coffee shops for a gingerbread latte – you can't help but feel like a kid at Christmas.